Stephanie Halber
Co-Producer & Production Coordinator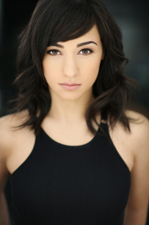 Stephanie Halber is the current Co-Producer and Production Coordinator for the Crazy8s Film Event and the Celluloid Social Club.
Inspired by a passion for film from a young age, she fed her interest by attending the Canadian College of Performing Arts, receiving her Certificate in Musical Theatre. Then going on to train in acting for film, television and commercials with some of the best coaches Vancouver has to offer, including Jeb Beach, Andrew McIlroy, John Emmet Tracy and Ingrid Torrance.
Her enthusiasm for the industry has led her to explore many facets. She is currently a professional actor as well as an acting instructor at Biz Studios, and has previously taught at the Victoria Academy of Dramatic Arts, Screen Actors Studio and Arts Reach. She has a history of working in arts administration as the previous Office Manager for Beatty Street Studios. In 2014, she was the Programming and Community Liaison for CineVic Society of Independent Filmmakers, managing marketing and public relations. Currently working as a casting assistant for Tiffany Mak, she also worked as a casting director on the short film "Shhh," which went on to take home awards at the Leo Awards and the Rhode Island International Film Festival.
Her volunteer work includes venue and event coordination for Antica Productions as well as two years with the Victoria Film Festival.
Throughout her journey through the aspects of film, she has continuously been drawn back to production and the creative opportunities that it brings. She was recently honored to receive the Cold Reading Series' Keith Provost Award for her contributions to the community. The potential to influence and help a new generation of filmmakers to develop continues to inspire her and drive her commitment to Vancouver's film industry.