Director: Anaïsa Visser
Writer: Anaïsa Visser
Producer: Darren Devlin & Marco Bossow
A US Border Patrol Officer apprehends two refugees fleeing the US into Canada and struggles against his duty and his haunted past.
Anaïsa Visser, Director/Writer
Anaïsa grew up all over the world, namely in Mozambique, the United States, then France, before moving to Vancouver to pursue an undergraduate degree at Emily Carr University. She graduated in 2013 with a BFA in Film, Video and Integrated Media. Her short script Send Us Smokes won the Hot Shot Shorts contest in 2016, and she was a finalist in NYC Midnight's 2017 International Screenwriting Challenge. She was also privileged to receive the 2017 Vancouver Mayor's Arts Award for Emerging Artist in Film and Media. Anaïsa is passionate about storytelling, and hopes to make a career out of writing and directing films someday.
Darren Devlin, Producer
Graduating from Emily Carr University of Art + Design with a Bachelor of Fine Arts in 2015, Darren has since been pursuing a career in the BC film and TV industry as an Assistant Director. Splitting most of his days between volunteering for local community groups and his professional work, Darren spends his spare time practicing swordplay, reading, or tinkering away at his own projects when he can.
Marco Bossow, Producer
Marco Bossow is an award-winning director, cinematographer and editor based in Vancouver. Having worked on numerous TV-shows, short films and web series in key roles over the last 5 years, he's built a diverse portfolio ranging from high-key comedies to intense wildlife documentaries and dark thrillers.
Director: Kailey Spear & Sam Spear
Writers: Kailey Spear & Sam Spear
Producer: Natasha Wehn
After an AI nanny attacks her employer, an investigative team must determine what caused the attack. 
Kailey & Sam Spear, Directors / Writers

Kailey and Sam Spear are director/writer/actors (and twin sisters) originally from Bowen Island, British Columbia. They graduated from the SFU film program In 2012 and have since directed both in both theatre and film. They are represented by Jenny Maryasis and Abby Glusker (UTA – literary) as well as Meagan McLeod (LLA – acting).
Natasha Wehn, Producer
Natasha is a passionate filmmaker whose wide range of experiences in the industry have given her a comprehensive foundation as a producer. The short film "The Mary Alice Brandon File" which was Natasha's first project she produced after film school, won the Twilight Saga "Storytellers" competition earning it a place in the Twilight Franchise, a one hundred-thousand-dollar cash prize and over 6 million views. More recently she associate produced the feature "Luk'Luk'I" which won Best BC Film Award at VIFF and Best Canadian First Feature Film this year at TIFF.  After doing an exchange year in Berlin at the Humboldt University in 2014, she returned to Canada and started working at Mayrs Brandstatter, a leading casting company in Vancouver, on shows such as "X-files," " War of the Planet of the Apes" and "Supernatural. She now works in the production office of a major Disney feature, however her heart still lies in the independent film industry and she is honoured to have worked as a first AD on over 22 independent projects ranging from features and web series to commercials music videos and shorts.
Director: Christopher Graham
Writer: Zlatina Pacheva
Producer: Kris McRonney
In this fantastical tale, a young girl struggles with the loss of her parents in a freak accident as she learns to embrace what she truly loves, dancing, and its chilling consequence.
Christopher Graham, Director
Christopher Graham is one of the founders of Bad Cookie Pictures. He's been a pillar to the indie horror community, working in production design and recently taking on writing and directing. He's had international success with his film PAINT THE TOWN RED and much attention from his recent VR piece TUNE IN FOR MURDER. He prides himself on a unique style and eye for genre.
Zlatina Pacheva, Writer
Zlatina Pacheva has been working in independent film in Vancouver for the past four years in varying capacities – including unit publicity and production design. As a writer, three of her scripts have been turned into short films, which have screened worldwide. Her web series, DEAR DIARY, was consistently in the Top 5 at VanChan and she is currently in pre-production for Season 2. In her spare time, Zlatina volunteers with Raindance Vancouver and is the co-director of the Vancouver Short Film Festival.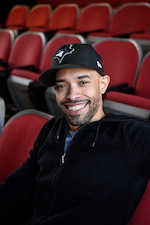 Kris McRonney, Producer
Kris McRonney is a Toronto native living in Vancouver and has appeared in the Lifetime original movie ONE ANGRY JUROR, CW's ARROW and E!'s THE ARRANGEMENT. He also played a lead role in the Frostbite Productions web-series drama THE LAST FALL OF ASHES. As a producer, Kris successfully pitched the award-winning web-series NIGHT OWL HIGH to TELUS STORYHIVE which received 50K to create a 6-episode series for TELUS OptikTV. Since then, Kris has produced three short films: PAPER CRANES, SONDER and THE THINGS I COULDN'T SAY.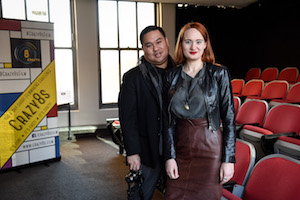 Director/Writer: Mily Mumford
Producers: Phil Planta, Mayumi Yoshida
In a very near future two VR gamers coincidentally meet in real life and through their interactions expose the dark side of virtual reality and gaming.
Mily Mumford, Writer/Director
Mily Mumford is a writer/director with nine years of experience creating for the stage, who is now transitioning into the film world. She delights in the intersections between art, science and popular culture. In addition to being a multidisciplinary artist she is a graduate student at Simon Fraser University in the School of Interactive Arts and Technology where she researches neurotechnology, AI systems and robotics.
Phil Planta, Producer
Phil Planta is producer, filmmaker and VFX Artist. Phil, a graduate of Vancouver Film School and Focal Point School of Photography, has a background in photography and multimedia with expertise in 3D Animation/Visual FX. He has worked as a VFX artist for 'Once Upon a Time', 'Falling Skies', JJ Abrams 'Revolution,' and as VFX DoP 'Twilight – Breaking Dawn – Part 2', and Tim Burton's "Big Eyes". Mr. Planta was also Data Wrangler on the set of ''Red 2' starring Bruce Willis. Most recently he was one of the VFX Supervisors on the upcoming short film "Cargo". He produced the short films "Contaminant"(2013) and "Final Wishes"(2016) both winning first place at the Vancouver Asian Film Festival MAMM. Mr. Planta was Hot Shot Shorts Finalist, he produced the the 1st Place Telus Storyhive short "Akashi" which also won at the NBC Universal Short Film Festival.
Mayumi Yoshida, Producer
Mayumi Yoshida is from Tokyo, Japan. In 2010 she moved to Vancouver to pursue her acting career in North America. Her role as Crown Princess (The Man in The High Castle) received a 2016 UBCP/ACTRA's Emerging Actor nomination. She made her debut as a filmmaker with Akashi-あかし-
(2017) which she wrote, produced, directed, and starred in. The short film is based on her play NeOn-ね音- which was part of the 2016 Vancouver Fringe Festival and 2017's rEvolver Festival. Mayumi won Best Actor award at the 2017 East Van Showcase, TELUS Storyhive 2016 Digital Shorts Grand Prize in BC, Outstanding Writer Award at NBC Universal Short Film Festival for her work on Akashi-あかし-.
Director: Melanie Jones
Writers: Melanie Jones & Rhona Rees
Producer: Kristyn Stilling
Associate Producer: Amelia Morris
Washed-up badminton star Winnie will stop at nothing to reclaim her Olympic dreams by playing a match against her former rival while a video crew documents her desperate attempt to prove glory should have been hers.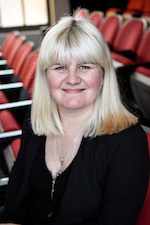 Melanie Jones, Writer/Director
A graduate of the Langara College Film Arts' Directing Stream, Melanie Jones has directed over a dozen short films and other short-form projects. Her films have screened worldwide, and garnered numerous awards and nominations, including her short film 'Rest Stop' which played on the En Route in-flight entertainment system on Air Canada for a year. Melanie attended the highly competitive Women in the Director's Chair program in 2013 and wrote and directed her first feature film, 'FSM' after being selected as the BC Winner of the Indiecan 10K Challenge in 2014. FSM celebrated its World Premiere at the Whistler Film Festival and has since screened at several festivals in the US, Canada and abroad. FSM has been nominated for several awards including a Leo Award nomination for Best Directing in a Motion Picture and has been lauded by critics, finding a spot on nine "Top Films to See" lists.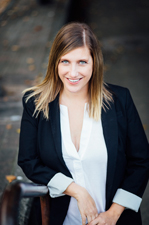 Kristyn Stilling, Producer
Born and raised in the lower mainland Kristyn Stilling has immersed herself into the Canadian film community. She works full time as a Production Coordinator at the National Film Board Vancouver office and is also the Shorts Programmer at the Whistler Film Festival, Programming Director for the webisode festival VanChan, and the Chair of the Board for VSFF. Additionally for the past 2 years she has been a Co-Producer with Crazy8s Film Society, producing 12 short films all made within 8 days.
Rhona Rees, Writer
Rhona is a seasoned performer with more than 22 years of experience in front of the camera and behind the mic. She enjoyed a busy career as a young performer in Australia, with lead and supporting roles in dozens of TV series. A Vancouver resident since 2012, her recent credits include a guest star on ABC's The Good Doctor and a lead in the animated series Littlest Pet Shop: A World of Our Own. Rhona is passionate about telling unconventional female stores, and she is thrilled to be collaborating with the talented Melanie Jones on Shuttlecock.
Amelia Morris, Associate Producer
Amelia Morris is an actor and producer from Sydney, Australia. Her first short CARDED, which she co-wrote and produced, won Best Picture at the inaugural No Small Stories Film Festival. Since moving to Vancouver in 2016, Amelia has produced several shorts including a HI HONEY (A Semi-Finalist in the Hollywood Screenings Film Festival) and PEARLY NIGHTS (in post-production) with producers Amanda Verhagen and Amy McLeish. She has a Bachelor of Arts in Acting and a Masters of Public Relations and Advertising and sits on the board of directors for Ode Movements, a non-profit arts society in Vancouver. Her most recent project, Storyhive funded webseries pilot LUCHADOR, will be released online in early February.
.
Director: Maxime Beauchamp
Writer: Maxime Beauchamp
Producer: Kent Donguines
In a world where only the biggest fish in the sea survive, Laurie, an amateur painter, struggles with success as she finds herself becoming more and more like the tiny fish she puts to canvas.
Maxime Beauchamp, Director/Writer
Coming from a background in performing arts and dance, Maxime is a proud French Canadian from eastern Ottawa, where he quickly found out that imagination was one of our precious tool. Visual story telling is the passion, allowing him to direct multiple short films that now screens in festivals around the world and partnered up with diverse artists and Storyhive to direct music videos.
Kent Donguines, Producer
Kent Donguines is a graduate of Bachelor of Arts in Communication and Media Studies of the University of the Philippines and Vancouver Film School, Film Production. He values creating a strong network as he collaborates with other emerging filmmakers as a Producer and has established his own company AIMER FILMS last June 2017. IRIDESCENCE, the film he produced is currently on its festival run with numerous awards and nominations. He's also known for his other projects such as GREY and his Storyhive-funded music video SERPENTINE FIRE.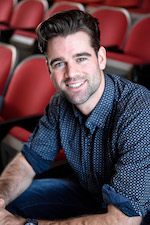 Mackenzie Stannard, Producer
Mack Stannard is a multimedia storyteller and project manager. He received his BA from Simon Fraser University in Communication Studies and Business Administration. He has worked in broadcast journalism, marketing, and event production. He has produced a number of documentary shorts in Canada and abroad. This is his first narrative fiction project and hopefully not his last. His mission is to tell and distribute stories that inspire, inform, and connect people.